Drama as Suspects Arrive in Court Too Drunk to Stand Trial [PHOTOS]
There was a dramatic scenario witnessed at the Kibera Law Courts, on Thursday, after suspects arrived at the courtroom too drunk to stand trial.
In photos making rounds on social media,The suspects were allegedly meant to stand a drunk and disorderly trial.
In a video, the seven suspects are seen lying recklessly on the ground as two police officers try to lift them up, one by one..
"Huyo apigwe na upepo kwanza (Let that suspect recover first) before he gets up and leaves," a voice is heard saying.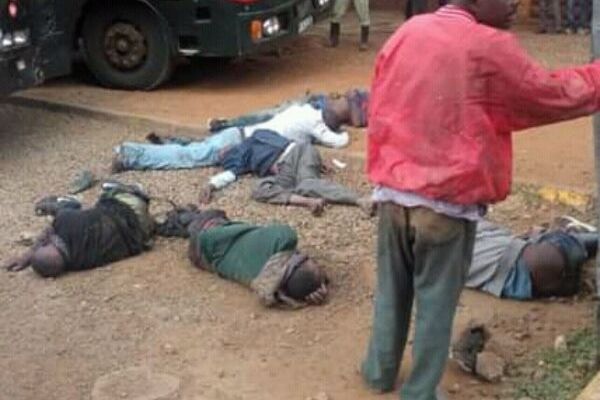 An officer then goes to the extent of helping one of the drunk men to wear his shoes.
The puzzling situation got some netizens wondering how the drunk suspects found themselves in court, in a drunken stupor.
"Is it that they were transported to the cells with booze in the vehicle?" Lucy Ekwam wondered.
"There are so many problems among the young people if they are drowning in alcohol this early," Bonga commented.
"You can't just lift human beings just like maize sacks. Let's respect humanity and treat our own people well. I hope the human rights section is watching at an angle," another weighed in.
The incident has occurred a few months after Molo MP, Kimani Kuria, arrived at a function while drunk, angering area residents who threatened to rough him up.
The MP had been invited to the meeting that was aimed at discussing the illicit brew menace in the area.
According to witnesses, murmurs about his drunkenness were confirmed when he staggered after he was invited to the podium to address the congregation.