North Eastern MPs have demanded the arrest of Kitui Governor Charity Ngilu.
The legislators who held a press briefing at Parliament buildings asked authorities to arrest Ngilu over what they termed as "anti-Somalis remarks".They accused Ms Ngilu of having called on a community to attack camel herders grazing in Kitui. They claimed the county chief had also threatened to arm residents of Kitui.
Addressing the media in Parliament on Wednesday, the MPs called on the security agencies to immediately arrest the governor. They warned that failure to do so could compromise security.
"If we are truly governed by the rule of law, then Charity Kaluki Ngilu must be arrested by the Government of Kenya. We are asking the security agencies to arrest her and let her face the consequences for her utterances," said Eldas MP Adan Keynan.
Other MPs present were Abdi Mude (Lafey), Abdullah Bashir (Mnadera North), Abdi Omar (Balambala), Mohamed Garane (Lagdera) and Abdikarim Osman (Fafi).Keynan played a clip of Ngilu speaking in a bid to prove their allegations."Kenya is not a banana republic. It is unfortunate that we can have a governor, ahead of one of the 47 county governments asking people to arm themselves. We need to tell Ngilu that nobody is a passenger in this country, we all belong here," he added.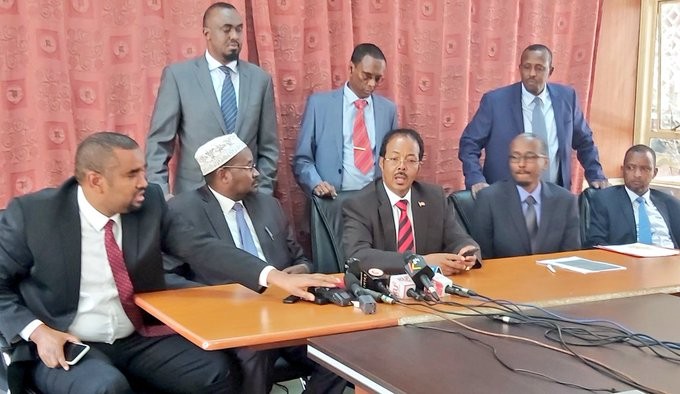 "We are aware and we even have evidence that it is the security agencies who are flushing out the pastoralists and sending them back. Where do they want them to take their livestock if there is no pasture in their counties?" Posed Bura MP Ali Wario.They asked Interior Cabinet Secretary Fred Matiang'i to order the security agencies to stop harassing the herders.
"Let them take individual criminal responsibilities," added Wario.
In an audio clip that has gone viral on social media sites, a voice which purported to be that of Governor Ngilu asking Kitui resident to take arrows and bows and fight herders who infiltrate their farms,speaking ill against Somali communities in advancement of a conflict hinged on county borders.
The Kitui governor was allegedly heard telling the youth that they should deal with the bandits who had attacked Mutha village in Kitui.
In the recording that has been spreading on social media sites like wildfire, the governor is heard vowing to arm youths from her community to deal with invasive neighbours.
" Don't think those guns are so powerful, I will give you money to get some and train our men on how to use a gun, bows and arrows so that we deal with them, there is no other option," the voice said to be Ngilu stated in her local dialect
"Do you think those guns are powerful than our bows and arrows. I will leave many then we deal with these people,"
"We are going to fight these people. There is no option…" she added.
Displaced village
Barely two weeks ago more than 200 families fled their homes in Mutha village Kitui County fearing bandit attacks.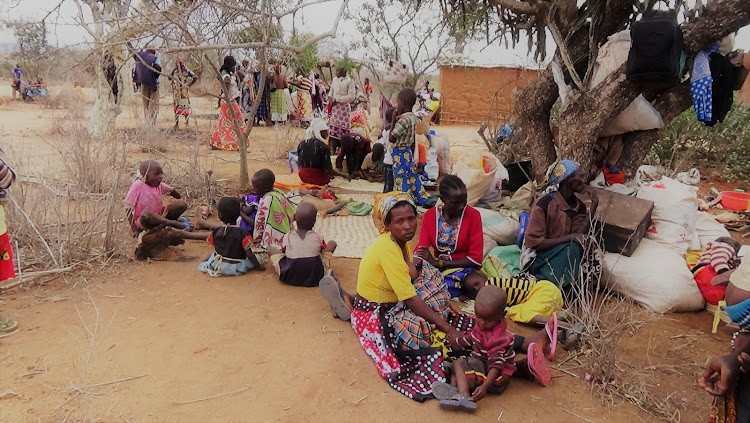 More than 200 families fled their homes in Mutha village
The families, which camped at Mutha Catholic Church, slept in the cold after they were forcibly driven out of their homes by armed Somali camel herders who unleashed terror in the area.
The latest bandit attacks left three people dead and scores of others with gunshot injuries as statistics released by the Kenya Red Cross Society, the numbers are swelling by the day as more people flee their homes.
The National Cohesion and Integration Commission (NCIC) later confirmed the audio clip was captured in 2018 but reiterated it had taken up matter for necessary action.
#ArrestKituiGovernor @ODPP_KE @DCI_Kenya @NPSC_KE pic.twitter.com/X69xi11V78

— NCIC Kenya (@NCIC_Kenya) September 25, 2019
ALERT: Kitui Gov @mamangilu inciting the Kamba Community against the Somali Community. She has even offered to train Kamba men how to use a gun, bow and arrow. This is disaster in waiting. @ODPP_KE and @NCIC_Kenya what other evidence are you waiting for to #ArrestKituiGovernor? pic.twitter.com/ET7cpCvfuX

— #InsecurityKE (@InsecurityKE) September 24, 2019
Kenyans on social media also castigated the audio with some calling on the police force and investigating authority to take charge and arrest the governor.
If Charity Ngilu used half the energy she uses to incite on development, the poverty stricken county of Kitui would have been food secure at the very least. #ArrestKituiGovernor pic.twitter.com/iFSxFEzbSk

— Ahmed Mohamed ((ASMALi)) (@Asmali77) September 25, 2019
Kamba community needs water and better healthcare and roads more than they need arrows, let's fight poor Governance not poor people. #ArrestKituiGovernor

— TEARDROPS THE GREAT OFFICIAL 🇰🇪 (@poetteardrops) September 25, 2019
THERE'S NOTHING like we Kambas, there's only, We the People. When you signed up for the Constitution, you got born again. You rejected barbarity &embraced civility. You can't tell us you're open to incitement. That's abandoning the faith. That's not allowed. #ArrestKituiGovernor

— Steve Ogolla (@steveogollaw) September 25, 2019
It breaks my heart hearing some respected Governor say this then when clashes break out, they pretend to distance themselves. This should not go unpunished!#ArrestKituiGovernorpic.twitter.com/B08aWfMRjB

— Dennis Shark™ 🇰🇪🇰🇪 (@Shark_Kenya) September 25, 2019
Other Kenyans defended the embattled governor saying she expressed her honest opinion and frustrations the people of Kitui were facing hence should not be punished, but instead be helped by the state to deal with the security threat.
I stand with Charity Ngilu 100%.This somalis are rude and disrespectful. wanalisha hizo ngamia zao kwa shamba za wakamba zikiwa na chakula na ukiwauliza wanatoa gun, who does thaaaat🤔 na hakuna kitu utawambia. Lets deal with it this way. Period #ArrestKituiGovernor pic.twitter.com/dw0M8yi6Kx

— iskariot (@larry_mutava) September 25, 2019
Ngilu is right in defending property of locals. Let Somali herders look for pasture elsewhere. You don't bring cows to my farm and expect me to cheer you. I would definitely react. #ArrestKituiGovernor

— Rein (@Asamoh_) September 25, 2019
I don't advocate for violence, but saying #ArrestKituiGovernor , sounds like those Human Rights activists, who defend criminals when there is a shootout with the police…!
Kambas are being killed in their homesteads, who is protecting them ?? 🤔
Let's approach Ngilu soberly

— Arthur Mbugwa (@2015ArthurM) September 25, 2019
I completely don't agree with this hashtag #ArrestKituiGovernor because these Somalis are heavily armed. They feed on Kitui people's crops arrogantly.

— ChelseaNairobi (@eogechinyasimi) September 25, 2019
I fully support Charity Ngilu. The only Ukambani governor with balls of steel.
Let Duale and his kismen go herd their camels in Kismayu. Nonesense. pic.twitter.com/6xqESJvLdn

— Kivuvoh 🇰🇪 (@itskivuvo) September 25, 2019
TRENDING VIDEO: Together Even In Marriage; Twin Brothers Marry One Wife
(Visited 143 times, 1 visits today)