Nudity sells and a number of celebrities use it to market their ideas or attract followers.
Although this may be viewed as inappropriate, female celebrities have severally been on the spot for showing of their goodies.
With this trend, it is becoming almost impossible to be relevant without showing some parts of your body.
You would have to try twice harder in the entertainment industry; if you prefer a decent lifestyle when it comes to the choice of dressing.
You may assume that only female socialites lead on the list of those who use nudity to advertise themselves. However, artists and ladies from other different professions are slowly embracing this trend.
While others appear fully undressed in those social media photos, some uncover parts of their bodies leaving room for imagination
Here are the celebrities who have willingly shared nude photos on social media
1.Vera Sidika
Her body her rules! Nudity is nothing new to this socialite and we have almost seen every part of her.
Vera Sidika occasionally teases her followers with very raunchy photos and she is obviously unapologetic about it.
2.Tiwa Savage
Nigerian singer Tiwa savage has severally been spotted in half-naked photos. She however seems pretty conscious about being in the raw.
In her most recent seductive photo, Tiwa Savage stepped out topless as she showed off her boobs.
Although people think that nudity could be a phase for the younger generation, Tiwa proves them wrong!
3.Huddah Monroe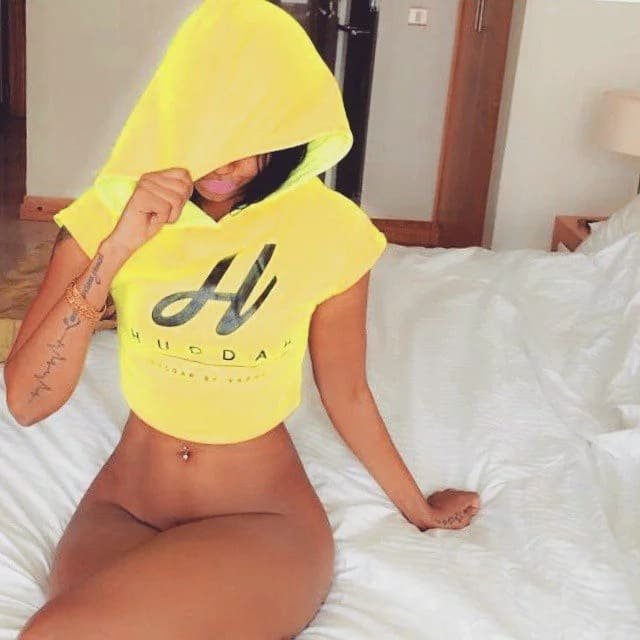 Kenyan Socialite Huddah Monroe  has severally paraded her goodies. From sexy bikinis, lingerie to being bare-assed naked.
Old habits die hard! Last year, Huddah deleted most of her revealing photos stating that she wanted to start afresh. Seems like she has been unable to pull it off since she still uploads semi-nude photos.
3.Zari Hassan
The mother of 5 appears comfortable in bikinis and has more than once blasted fans who feel that she should not step out in such revealing attire.
We have not seen her fully naked but she has a habit of arousing her fans with almost naked photos.
4.Corazon Kwamboka
Socialite Corazon Kwamboka broke the internet after a photo of her showing off her naked boobs surfaced online.
Unlike the rest of the female celebrities, Corazon was posing for the photo with her lover who was holding her boobs.
5.Sanchoka
Tanzanian model Sanchoka has got all the curves to show and although we cannot see beyond the lather foam, it is pretty obvious she is wearing nothing underneath.
Read the Original Article on DailyActive.Info
(Visited 8 times, 1 visits today)