Counties from Central Kenya Register Worrying Family Sizes in 2019 Census Results
The Kenya National Bureau of Statistics (KNBS) Monday morning released the 2019 census data, indicating that the current population of the country stands at 47, 213,282.
Nairobi, Kiambu, Nakuru, Bungoma, and Kakamega Counties emerged the most populous regions of the country.
A closer analysis into the statistics, however, reveals a large discrepancy in household sizes around the country, with Central Kenya counties registering a worrying trend of very small families.
Households in Kiambu County, which has a population of 2,402, 834, have an average of three people per household, as is the case with Nyeri County, which has an overall population of 752, 695 residents.
Kirinyaga County also registered similar household size statistics, with an overall population of 605, 630 residents.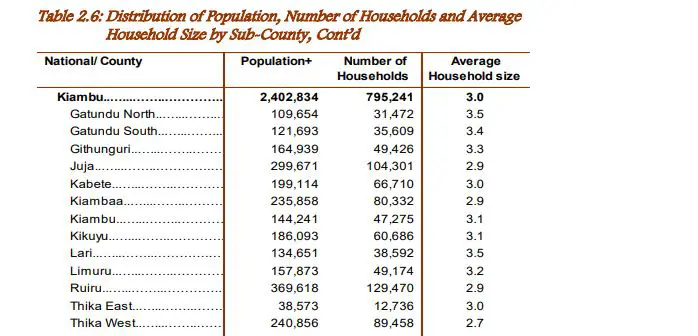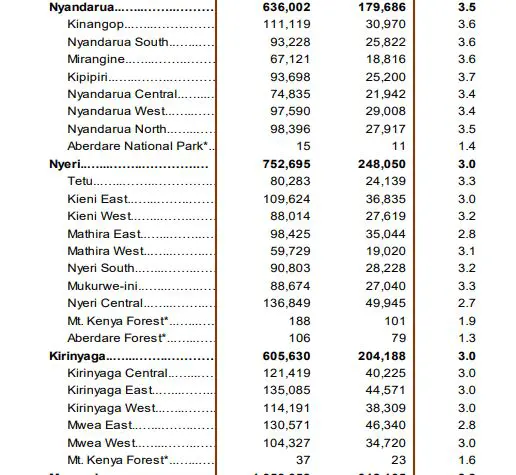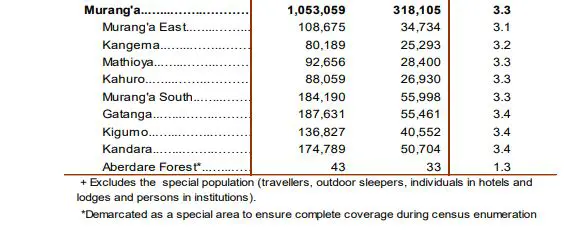 In the neighbouring Murang'a and Embu Counties, which have a population of 1,053,059 and 604,769 respectively, the average household size is 3.3 per family with Tharaka Nithi, Meru, and Nyandarua topping the list with an average of 3.6, 3.6, and 3.5 people per family respectively.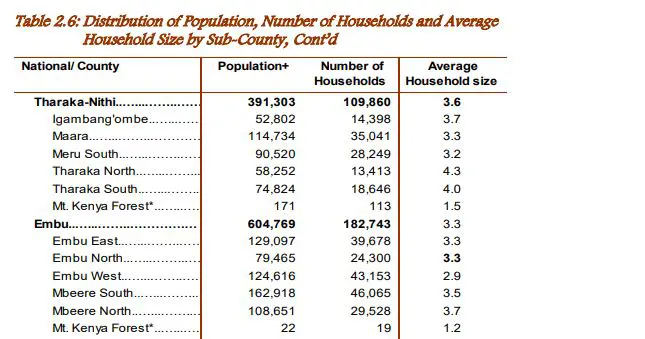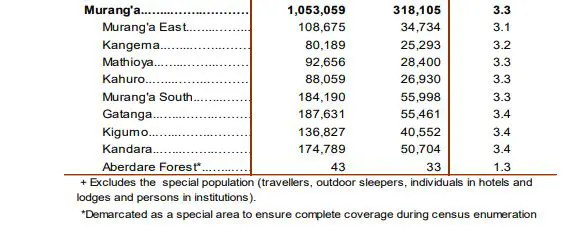 The overall population of Nyandarua, according to KNBS, is 632, 008 while that of Tharaka Nithi is 391,303. Meru County's population stands at 1,536,635.
In the 2019 census data, counties such as Wajir and Mandera doubled the Central Kenya average number of individuals per household, while Turkana, Kwale, Garissa, Marsabit, and West Pokot followed closely behind with families of about five people.
Western Kenya Counties such as Kisumu, Bungoma, Kisii, Migori, Nyamira, Siaya and Busia recorded an average household size of about four people, as was the case with counties within the Rift Valley region.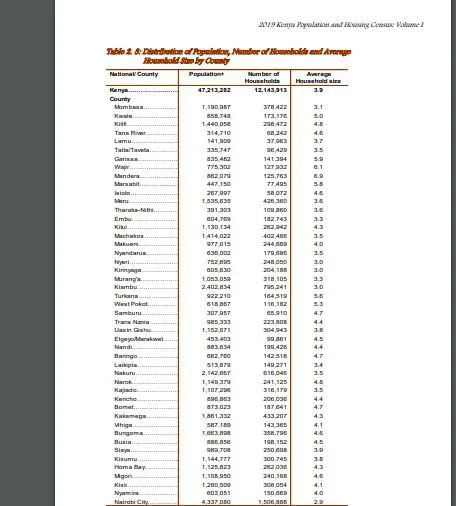 Politically, it is believed that to gain victory in national polls, one has to win over the populous Central Kenya region as his/her political stronghold.
As compared to other counties, Central Kenya could be more open to family planning, which explains this phenomena which, although economically reasonable, might, in the future, shift political dynamics in the country under the tyranny of numbers ideology.
According to the KNBS data, Mathira East, Mwea East, Juja, Kiambaa, and Thika West are the most problematic sub-counties of the Mt.Kenya region, registering an average household size of less than 3 individuals
Source: DailyActive.Info
(Visited 17 times, 1 visits today)