A heart-rending story of those who have to suffer from coronavirus – the innocent 10-month-old baby in Wuhan was unaware of his illness, trying to reach for a father's hug while the dad could only cry outside the window. Watch the video!
From the day they received the blockade order, the lives of more than 9 million people in Wuhan city immediately turned into a suffocating prison. Lots of families had to separate because the situation of the disease worsened, causing the insiders so many tears and making the witnesses overwhelmed in pity. There have been numerous heart-wrenching stories amidst the chaos, including this story of a baby with coronavirus.
Baby with coronavirus waiting for a father's hug
This toddler boy from China is one of the newest victims of coronavirus in the city. He had to go into quarantine room for health status monitoring.
Twitter account @Huh_My_Rahhh had shared a crushing video of the baby's father when he visited his son in the hospital. The only barrier between father and son was the quarantine room's glass window. However, it was also the most remote distance that no matter how hard he tried, he could not get through it.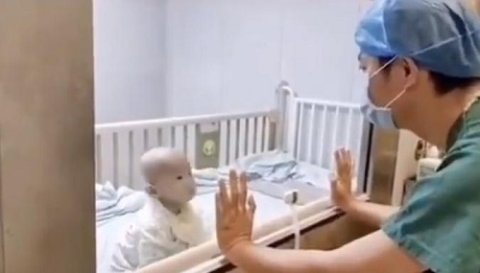 Seeing his father on the other side of the door, the boy happily extended his arms waiting to be embraced and carried, having no idea that his father was struggling to see him coping with the deadly disease.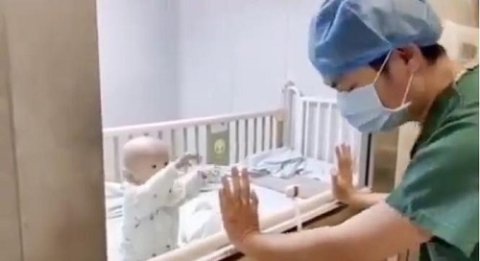 Feeling pitiful for his baby yet desperate in front of this contradiction, the father hurriedly turned away to wipe away the stream of tears on his face.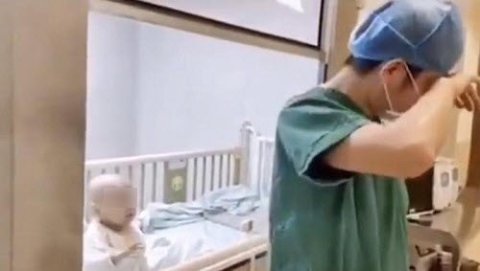 After being uploaded, the video has had more than 53.2 thousand retweets and a lot of comments from Internet users. Putting themselves in the shoes of the dad, a netizen bared it out that if his son could not make it, they would not be able to bear it and would lose the will to live.
Through this story, we can only imagine a part of the consequences the fatal coronavirus would bring.
Meanwhile, countries all around the world are trying their best to minimize the risk of this disease. Many are allowing children as well as workers to temporarily take leave from schools and offices.
Among the coronavirus facts, it is obvious that coronavirus transmission can occur from person to person and there have been new reports about the disease being transmitted via the digestive system.
However, doctors are endeavoring to make the vaccines and antidotes against coronavirus. Reports have been rife about a patient being cured with a combination of three separate medicine and this is giving high hopes for citizens everywhere.
Source:StarBizz
(Visited 186 times, 1 visits today)