– A pastor has ordered his church members to kiss each other randomly during a church service
– In a photo, the church members were captured obeying the pastor as each one has grabbed someone to kiss
– The church, Hope Restoration Ministries, is said to be one of South Africa's most popular churches
Should members of a church go on a kissing spree inside the building especially while the service is going on?
Well, A South African church has caused a stir on social media after members were spotted kissing each other during the service.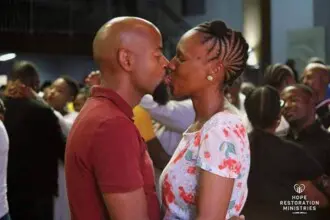 Well, the pastor of Hope Restoration Ministry ordered his church members to kiss each other during service.
In the photo that has gone viral on social media with much traction, the church members, as they have been taught, obeyed the pastor and each was captured kissing the other person.
He reportedly ordered them to "T ake their neighbours whom the kiss home."
Hope Restoration Ministry is said to be one of the biggest churches in South Africa with a large following.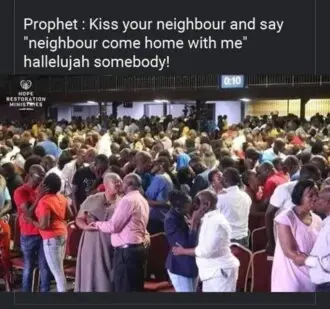 Would this go to mean the church members are easily persuaded to do something or were there any spiritual awakening to the acts?
It is reported that the pictures were taken during the church's Valentine's Day 'spice up your marriage' special.
That was according to a tweet released on the church twitter handle by the general overseer Rev. Chris Mathebula.
Meanwhile, this is not the first time such a weird thing is being done at a place of worship.
Recently a Kenyan pastor, James Ng'ang'a, was confronted by a lady who identified herself as the Devil From Gatundu.
https://twitter.com/BettKMax/status/1194495851202273280?s=20
The pastor known to be a no-fear kind of individual confronted the lady and immediately she started gesturing at him.
The church drama caused a stir on social media leading to a tag: The Devil Wears Gap, in line with the ladies' dressing.
-Tuko.co.ke
TRENDING VIDEO: Together Even In Marriage; Twin Brothers Marry One Wife
(Visited 5,420 times, 1 visits today)