Culture and beliefs are two big things that have made people to remain in their old ways of life despite the changing world in the century.
However, there are some countries and tribes that have remained adamant and resistant to change.They fell in love with their old barbaric ways of life. 
According to source on the internet, man who has been in mortuary for four months got dressed and made to stand with family members on his burial day for a photo shoot.
In Nigeria, a family in a bid to make more memories of their late father on his burial day, dressed the deceased in his Knight attire, made the corpse take a standing position – a feat, still not certain how they achieved it, and then they took pictures with it.
The deceased who has been identified as Dr. Luke Nkanele died four months ago but has remained in the morgue for all that period to only be buried a few hours ago.
The photos circulating on social media handles have ignited mixed reactions and confusion on how can people dare dress a copse, make it stand upright with just an aim of taking photos with it. See some of the photos.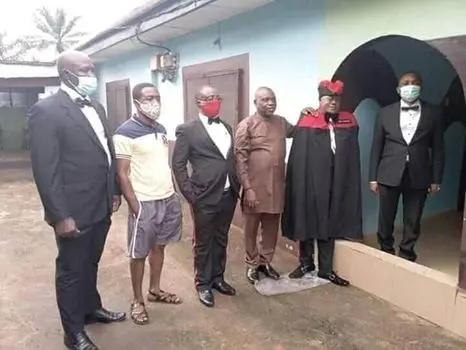 Dr. Luke Nkanele was a medical personality from Nigeria and was working at the Knight of St Mulumba in Nigeria.
Reactions have since trailed the pictures on both social media and main stream media, while some people find it disturbing, others have said it was the family's way of sending him out – one final photo shoot.