The internet is on "fire" with Kenyans on Twitter (KOT) discussing reports that Interior Cabinet Secretary Fred Matiang'i and his team were forced to land at Eldoret International Airport and not in West Pokot.
The CS for interior was in company of Cabinet Secretary Eugine Wamalwa, Inspector General of Police Hillary Mutyambai, the Rift Valley Regional Commander among other state officials.
The team led by CS Matiang'i was on its way to West Pokot where rains have caused massive destruction of property and lose of lives.
The total number of people who have died as a result of the landslides in West Pokot is said to have hit 52 while some sources put the numbers at 60. Some people are still missing.
The fury online, according to a section of Kenyans is that CS Matiang'i and his team "chickened" out of landing in West Pokot and chose Eldoret, miles away from West Pokot.
PAY ATTENTION:
Do you have a life-changing story you would like us to publish on this popular website? Share it with us
(
SUBMIT YOUR STORY
)
From the arguements, I have realized that many people are arguing without really having facts of what really transpired. People are discussing about the landing but not what led to the landing.
In Swahili we say, Mgala muue na haki umpe and that is why, the question should be, why did CS Matiang'i and his team choose to land in Eldoret and not in West Pokot?
This is what happened: on their way to West Pokot, the pilot flying CS Matiang'i and his team was informed of bad weather on the ground coupled with poor visibility. This meant that even if the team made it to West Pokot at that time, it would have been impossible for them to land.
The pilot informed the CS and the team on board. The CS had to take a cautionary measure and decided to land at Eldoret International Airport to wait for the weather to normalise.
Now, for those who might not be aware, when flying, the pilot is in charge and his word is always final. The pilot of any airline often gives update on weather patterns which change from time to time and when at the time of update it is deemed unsafe to land, the pilot's word is to be taken very serious.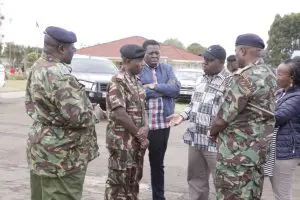 It happens that hours after the CS decided to discontinue the journey to West Pokot due to unfriendly weather, another chopper landed in West Pokot. Now, let us be realistic. We are talking about weather. Weather changes from time to time and an hour or two is long enough for weather to change.
The truth is the CS did not say that the journey to West Pokot was over. He promised to continue with the visiting at a perfect time. Also, the chopper that landed in West Pokot was also carrying government officials.
CS Matiang'i is part of government and the officials who landed in a different choppers are also officials of the same government.
Lives have been lost in West Pokot. That is the sad reality. Property worth billions has been destroyed. But we should not turn this into a political contest.
Source:Sokodirect.com
Video Of The Day:PLO LUMUMBA:"All The African Minister is A Demigod! Ooh Africa!
-Life is full of opportunities to show someone we love them.One such opportunity is the funeral or memorial service. With the changing times, the traditional newspaper obituaries are slowly being replaced by modern tools of communication. Inloving memoriam provides such a platform where you easily connect with loved ones through modern tools of communication. Tell your loved one's story, publish it online in minutes, and easily share it with friends and family. SUBMIT OBITUARY
–You Can also Get a Stunning Website here

(Visited 417 times, 1 visits today)